After graduating, I went to Wesleyan in Connecticut, an intense, rather small, mainly undergrad university in Connecticut. It was very demanding, though not great fun; I got a fine education and continued to play soccer. I graduated magna cum laude in a multi-disciplinary social studies program that was a track to law school. But law really did not appeal to me, so I opted for Peace Corps for two years, which took me to Francophone Africa in summer 1974. This got me interested in agricultural development, so after a year in Washington, DC (1976-77) at the Johns Hopkins School for Advanced International Studies, I got a research assistantship at Michigan State University, where I completed a PhD in Agricultural Economics. My dissertation research took me to Northern Cameroon for a year, so I didn't graduate until 1982 at the ripe old age of 30. I headed to Washington, DC and started working for USDA and USAID on African agricultural marketing issues. And here I still am nearly 40 years later doing similar work, though now we reside in Bethesda, Maryland, a suburb of DC. I subsequently worked for a federal contractor called Abt Associates and later the World Bank, but I've been an independent consultant since March 2016.
I married Mary Regina Salles, born in Texas to Brazilian parents (both deceased), in 1985.  She had lived 16 years in Rio de Janeiro in Brazil. We met in DC in 1983 at a French Conversation Club which met Thursday evenings in that small church on Lafayette Square opposite the White House. My wife has a Masters in French and teaches adult continuing education classes in French & Portuguese (I take the latter). We have two sons, Eric (1989) and Michael (1993), neither married yet. Eric lives in the Washington, DC area and works at the Marriott Corp. International HQ, and Michael lives and in Chicago and works at Encyclopedia Britannica (now digital at Brittanica.com).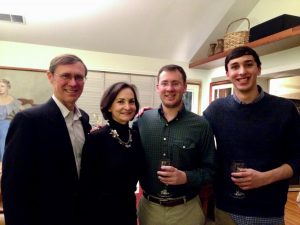 Since 1982, I've worked as an agricultural development economist and agribusiness analyst, focused on agricultural marketing, trade and policy issues, as well as agribusiness finance, mainly in Africa. We lived as a family in Cairo, Egypt for 5.5 years (1997-2002), where I worked in the Ministry of Agriculture on a major USAID funded agricultural policy reform project as a senior advisor. Those were enriching years; we traveled all over Egypt and the Middle East, to Thailand and Europe, and our sons loved the American School (K-12), which ended up being our community center, with excellent educational, drama/art, and athletic facilities.  We lived very well, learned some Arabic, and had many Egyptian and multinational friends. It was an enjoyable and safe time to be an expatriate in Egypt, which is unfortunately no longer the case.
Other than work, I've maintained a life-long commitment to fitness and boast that I am still at my "fighting weight" of late high school/college (though not quite as strong or agile). My wife got me into yoga four years ago, and we have continued to ZOOM yoga classes three times a week during the pandemic. I still swim some, pump some iron, walk a lot, eat a Mediterranean diet, and moderate my intake of craft beers and Finger Lakes wines.
We will retire in place, as my wife has a large circle of Brazilian friends in the DC area, mainly women married to men who work at the World Bank, the International Finance Corp., the Inter-American Development Bank, OAS, and the Brazilian Embassy. I tag along to her social events. The Brazilians, classic party people, love to throw large dinner/dancing parties at their homes (unlike Americans).
I continue to do consulting part-time, which has taken me to Morocco, Tanzania, Ghana, Kenya, Kazakhstan, Mozambique,  Nigeria and Egypt in the last six years. There are also quite a few desktop assignments not requiring travel, and during the pandemic the donor agencies are not sending anyone anywhere due to the heightened risk. Not quite ready for full retirement yet, though we will perhaps be ready by the time I turn 70 and my wife 68.
We hope to travel more in our golden years. Since summer 2015 to February 2020, we've made enjoyable international trips to France, Portugal, England, Northeast Brazil, St. Martin in the Caribbean, and Turks and Caicos. During the last two winters, we went to Florida and Puerto Rico, and during summers we have gone to Cape May, NJ, the Adirondacks and Finger Lakes regions, and Ontario (where sister Jan Gates, class of 1965, has a summer cottage on Georgian Bay of Lake Huron). Since Mary and I still work, our travel windows are limited (my wife teaches fall & spring semesters). But we hope to travel more once we are fully retired (post-pandemic). We have a long "to go" travel list. There are large parts of the US (including national parks) with which we are not familiar.
Other than that, we garden, read widely, go out to eat in a wide range of ethnic restaurants in the greater DC area, see films (my wife & sons are film buffs), do short day or weekend trips to Annapolis, the Western and Eastern Shores of the Chesapeake, the Delaware coastal beaches, and other points within a 100 mile or so radius of DC. Lots of interesting stuff to do here in the Mid-Atlantic Region. The picture below shows a couple dogwoods, a Japanese maple and azaleas in our backyard in early spring.
Life is good, despite the crazy times we are living through. My wife and I married late and remain late bloomers. Much still to do and learn. As my dad is still living and cogent at 99.5 years of age in residence at the Pittsford Highlands, maybe I'll be around a while longer if I end up having his longevity. I look forward to hearing from more of you and seeing you in September 2021. And hopefully many of us will attend our 60th and 70th reunions.