After earning my degree in Mechanical Engineering from Bucknell University I worked briefly for Corning before resigning, then over the course of the next 40 years worked in uncountable manufacturing companies in supervisory and managerial positions in production, maintenance, engineering, and project management. The industries I worked in included glass, foundry, plastic injection molding, construction, machining, fabrication, paper converting, chemical processing, jewelry manufacturing, general assembly, and scrap metal recycling. All of that set me up for the last and best job of my career: working for a software company implementing enterprise asset management systems at plants all over the US and Canada. I "retired" a few years ago, but subsequently worked for a year as a private investigator, have been working summers at a resort camp in the Adirondacks, serving as a Trustee on the board of our local library, and operating my farm-based business called Fern Hill Compost www.fernhillcompost.com/ which I started up in 2009 after building an aerated static pile composting facility.
My first marriage was right after college graduation. Too young, I'm afraid, but I have two terrific sons, and now fabulous daughters-in-law, and 3 grand kids. I later met Kristl at the Adirondack camp where we both had worked (at different times so we had never met each other) during a reunion of camp staff. We married, she became a wonderful step-mom to my kids, and 30 years later she claims it's still a trial, and that I am only her FIRST husband!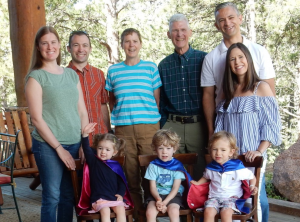 It was Kristl's love of horses that got us started with breeding Thoroughbreds. In the early '90s we had some pretty good success at the track, but at this point our farm is an equine geriatric center feeding the composting operation and providing therapeutic benefit to Kristl.
Outside of a short stint as ski club advisor at my kids' High School, my only athletic endeavors have been as a runner. Ran a few marathons in the '80s and '90s including the Marine Corps in DC and the Mayor's Midnight Sun in Anchorage as a benefit for Leukemia Society. Best I can do these days is plod through a 5k or 10k.
During my single years I became a motorcyclist enjoying mostly solo touring and camping trips. A few years ago I met up with fellow high school cross country co-captain Lee Fisher for a trip that retraced a portion of Lee's college bicycle trip home from Brown University in Providence. Another great trip was a solo ride through New England, Nova Scotia, and PEI.
When I was 15 I built a kayak from plans that I still have. In a sort of 50-year nostalgic look back I thought it would be a good idea to build another one from the same plans when I turned 65. But instead I was inspired to take advantage of the design developments that had taken place in the interim. That was a great decision, and I am very pleased with the result. Paddling is now replacing motorcycling as a safer way to satisfy my needs to exercise independence.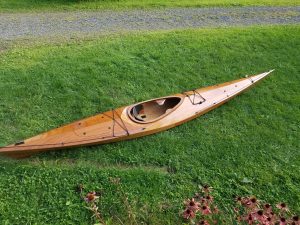 Kristl and I are grateful for our good fortune of family and general well-being. We enjoy the peace of our property which is full of wildlife and from which we see no other humanity for the most part except the UPS driver.